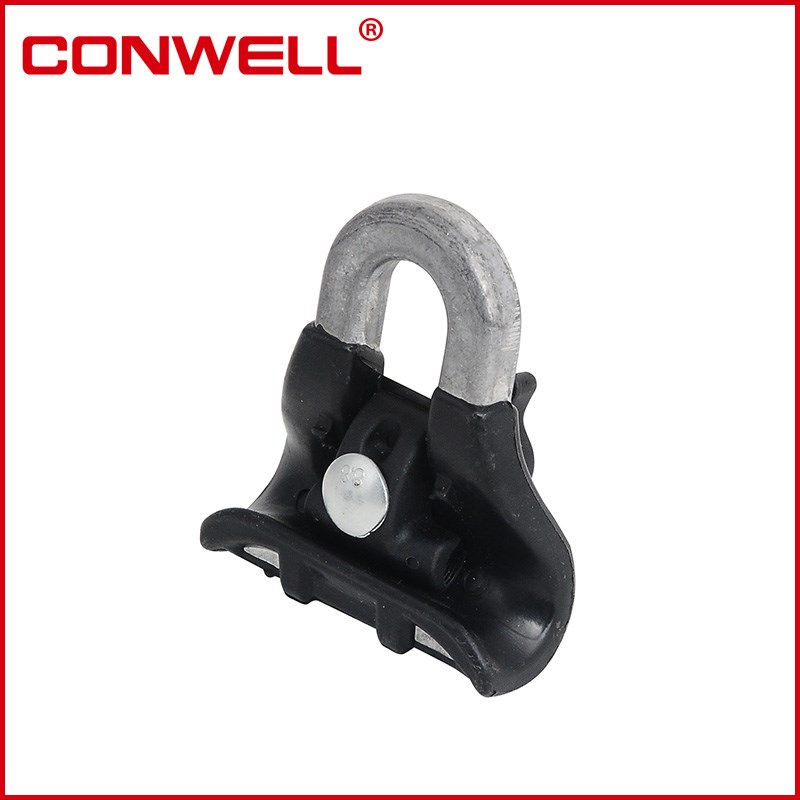 Suspension Clamp
Code: KW95
Name: Suspension Clamp
16-95mm²
Description:The suspension clamp is used for the suspension of the insulated messenger in straight lines and at angles up to 90°.
Dimensions
Weight:263g
Cable Size:16-95mm2
Mechanical
Breaking Load:18KN
Tightening torque:By hand
Specification
Use: KW95 is used for the suspension of ABC insulated messenger. It can be used in straight lines and line angles. Maximum line angle is 90 degrees.
Construction: The aluminium body of the clamp is coated all over with plastic, except for the upper U-shaped portion where the clamp is hung on the pole hook.
Installation: Hang the clamp on the suspension hook. Separate the messenger wire, resting on a pulley, from the cable. If needed, use separation wedges or other suitable tool in separating the messenger. Insert the messenger wire into the clamp's conductor groove. Loosen the wing nut a little bit, and place the keeper snugly against the messenger. Tighten the wing nut firmly by hand. Do not use any tool in tightening the wing nut – firm tightening by hand is enough. Remove the pulley and separation wedges. Recommended practice is to tie the cable with nylon ties on both sides of the clamp.
Standard: NFC 33-042; EN 50-483
Inner Package: 10pieces in inner bag
PCS/CTN: 100pcs
Carton Size: 45.5*36*21cm
G.W./N.W.: 27.5/26.5KGS